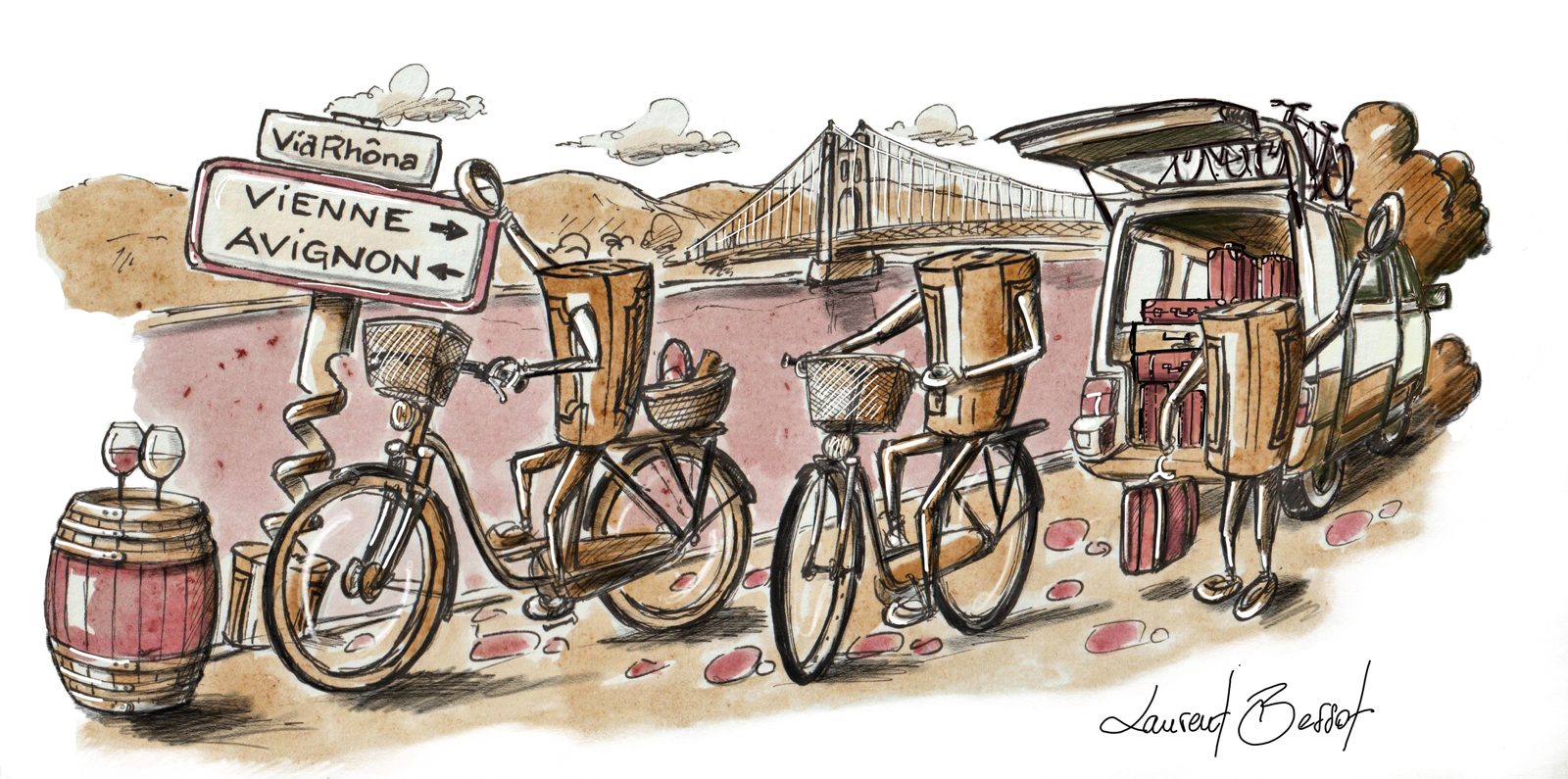 YOUR CYCLING ITINERARY ON THE VIARHÔNA FROM VIENNE TO AVIGNON
Planning your stay on the ViaRhôna?
To make it easier for you to spend one or more days on the route, don't forget to book your additional services:
luggage transport from your starting point to each of your stops, rental of electric or mechanical bicycles as well as saddlebags or trailers,
delivery or repatriation of your bike to the location of your choice...
Choose your options according to your profile and pre-book our services in just a few minutes.
Our service provider will be in touch with you a few days before your departure to discuss your needs
and ensure that you have the perfect stay.
User Guide
Can't decide between several options? Let us guide you according to your needs
I don't have a bike
I begin by renting my bike according to the estimated number of days of my trip. This is for 1 bike. If I want several bikes for other members of my group, I adjust the quantity.
I then select "bike delivery and repatriation" to have my bike brought to my point of departure (train station or accommodation located on the Vienne - Avignon section) and then repatriated from my point of arrival to the rental point (located on the same section).
In the extras section, I'm considering adding one or more saddlebags to carry my day's essentials (water, picnic, sun cream, first-aid kit, etc.) as well as a trailer or child's trailer, depending on my needs.
I rent a bike and would like to start my itinerary elsewhere than at the Condrieu rental agency.
I reserve my bike
I select the delivery service for my bike to be brought to my departure point (train station or accommodation on the Vienne - Avignon route)
I already have a bike OR I have rented a bike but I don't want to make the round trip and would like to return by train/carpool.
I opt for bike repatriation so as not to be encumbered on the return journey
I leave my bike at the end of the route (station or accommodation on the Vienne - Avignon section) and it will be returned to the rental agency
If it's my own bike, I pick it up at my departure point (train station or accommodation on the Vienne - Avignon section)
I already have a bike but would like to have my luggage transported.
I choose "Luggage transfer" and adjust the quantity according to the number of bags I need transferred . If I only have one piece of luggage, I don't change the quantity, but to add an additional, I add each luggage to my shopping cart
I need to find suitable accommodations on my route
I select the options I need and add them to the basket. Following my pre-booking, I receive a detailed form allowing me to indicate each of my stops according to my itinerary.
A few days before departure, I receive a call to check and validate all my options. A single service provider, a single contact for worry-free travel!
16, chemin du camping
69420 Condrieu
Telephone : 06 45 82 35 45